For this round of the Crazy Cooking Challenge we are looking for the Ultimate Chocolate Chip Cookie recipe. I've got a couple of personal favorites so far......the cookie from Baked and the Jacque Torres (NY Times) cookie. But ever since I read through the Chocolate Chip Cookie Quest over at
Sweet as Sugar Cookies
, I've been meaning to try the cookie from
Joanne Chang of Flour Bakery
.
There is nothing complicated with this recipe (although it does use both all-purpose and bread flour).....the hardest part of it all will be waiting overnight to 24 hours before baking these bad boys up. From everything I've read, this resting period in the fridge is mandatory if you want the best results for your cookie. Both the Baked recipe and the NY Times recipes also require you to let the dough rest overnight for the best texture and flavor.
And the most important part......how were they? Oh my.....these really are fantastic! They are crisp at the edges but super chewy on the inside....all with a great caramel flavor that everyone agreed was just delicious! Of course, I need to do a side-by-side taste test before I officially declare this as my favorite......nut I really do think we have a winner!
Check out all of the other great recipes over at
Sweet as Sugar Cookies
!
Joanne Chang's Chocolate Chip Cookies
from Joanne Change of Flour Bakery via
Sweet as Sugar Cookies
1 cup unsalted butter
3/4 cup light brown sugar
3/4 white sugar
1 1/2 tsp vanilla
2 eggs
1 1/4 cup all-purpose flour
1 cup bread flour
1 tsp baking soda
1/2 tsp salt
1 1/2 cup chopped semisweet chocolate
1/2 cup finely chopped milk chocolate
Beat the butter and sugars until mixture is light and fluffy. Beat in the eggs and vanilla until thoroughly combined.
Mix together the flours, baking soda, and salt. Add both chocolates to he flour mix and toss to combine. Slowly blend the flour-chocolate mixture into the butter-sugar mixture. Mix until the flour and chocolate are totally incorporated and the dough is completely mixed.
For best results, scrape dough into a container and let rest in the refrigerator for a day before baking. The next day, heat the oven to 350 degrees F and position a rack in the center of the oven. Drop the dough in 1/4-cup balls onto a baking sheet about two inches apart. Press dough balls down on the edges and slightly soft in the center, 15-18 minutes. Remove from oven and let cool.
Enjoy!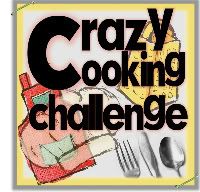 Make sure you check out some of the other entries in the Crazy Cooking Challenge and vote for your favorite....me, of course ;)
This post is linked to:
Bake with Bizzy
-
Full Plate Thursday
-
Turning the Table Thursday
-
Sweet Treats Thursday
-
Sweet Tooth Friday
-
Friday Favorites
-
Show Off Your Stuff
-
Fusion Fridays
-
Anything Goes Linky
-
Friday Food
-
Sweets for a Saturday
-
I'm Lovin' It
-
Fat Camp Friday
-
Sweet Indulgences Sunday
-
Monday, Mmmm......Dessert
-
Tuesday Talent Show
-
Tasty Tuesday
-
Crazy Sweet Tuesday
-
These Chicks Cooked
-
Cast Party Wednesday