I had planned on trying out a made from scratch chocolate cake (can't give away which recipe since I'll be trying it soon), but as soon as I saw the
Toasted Marshmallow Hot Fudge Cake
from
Confessions of a Cookbook Queen
....I knew I had my cake. Just the words "toasted marshmallow" and "hot fudge" had me drooling.....but put them together with a chocolate cake.......yes, please!!
And this recipe could not be any easier! Make a chocolate cake from a box mix.......poke holes in the cake once it's out of the oven and drizzle a jar of hot fudge sauce over the top. The top with marshmallow fluff and put back in the oven until the marshmallow gets nice and toasty. Easy Peasy!
You'll end up with a ooey gooey chocolate cake with toasted marshmallow frosting. This one was right up my alley! Enjoy!!
Toasted Marshmallow Hot Fudge Cake
1 box of chocolate cake mix
eggs called for on box
oil called for on box
water called for on box
1 jar of hot fudge sauce
2 (7 oz.) jars of marshmallow fluff
Preheat your oven to 350 degrees F.
Prepare your chocolate cake using the directions on the back of the box, and pour into a greased and floured 9x13 cake pan.
Bake cake according to the directions on the box. When cake is almost done, gently warm up the jar of hot fudge until it is pourable. When cake is done, take it out of the oven, and turn up the temperature of your oven up to 400 degrees F.
While the cake is still hot, use the handle of a wooden spoon to poke holes all over the cake, then pour the hot fudge sauce all of over the cake, letting it soak into the holes.
Place dollops of the marshmallow fluff all over the cake, then wait a couple of minutes for the fluff to melt a bit. Spread the marshmallow fluff evenly all over the cake, then place the cake back in the oven. Bake until the marshmallow topping begins to get browned and toasty. Remove from oven and try to not eat it all in one sitting.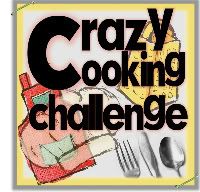 Check out what everyone else has made, and vote for your favorite!
This post is linked to:
Crazy Sweet Tuesday
-
Link Party
-
Tuesday Talent Show
-
Tea Party Tuesday
-
T' Time
-
Tasty Tuesday
-
Link It Up Wednesday
-
Mrs. Fox's Sweet Party
-
These Chicks Cooked
-
Cast Party Wednesday
-
Famous Linkz
-
Full Plate Thursday
-
Sweet Treats Thursday
-
It's a Keeper Thursday
-
Show Off Your Stuff
-
Friday Favorites
-
Feature Friday Free-for-all
-
Anything Goes Linky
-
Fusion Fridays
-
Friday Food
-
Fun Stuff Friday
-
Kitchen Fun and Crafty Friday
-
Seasonal Inspiration
-
Sweets for a Saturday
-
Sweet Indulgences Sunday